Events Calendar 2014
Watch for new events as they become scheduled. Our studio turns into a lovely intimate theater.
Viejo Con Nuevo!
Moment in Time Dance Co. is doing our annual big show. The show is a lovely fusion of professional modern dance,
Moment in Time Dance Co. and authentic Flamenco dance and music with Grant Ruiz and Elena Villa. We will perform
at our home base studio, Oak St. Dance Studio, which turns into a lovely theater.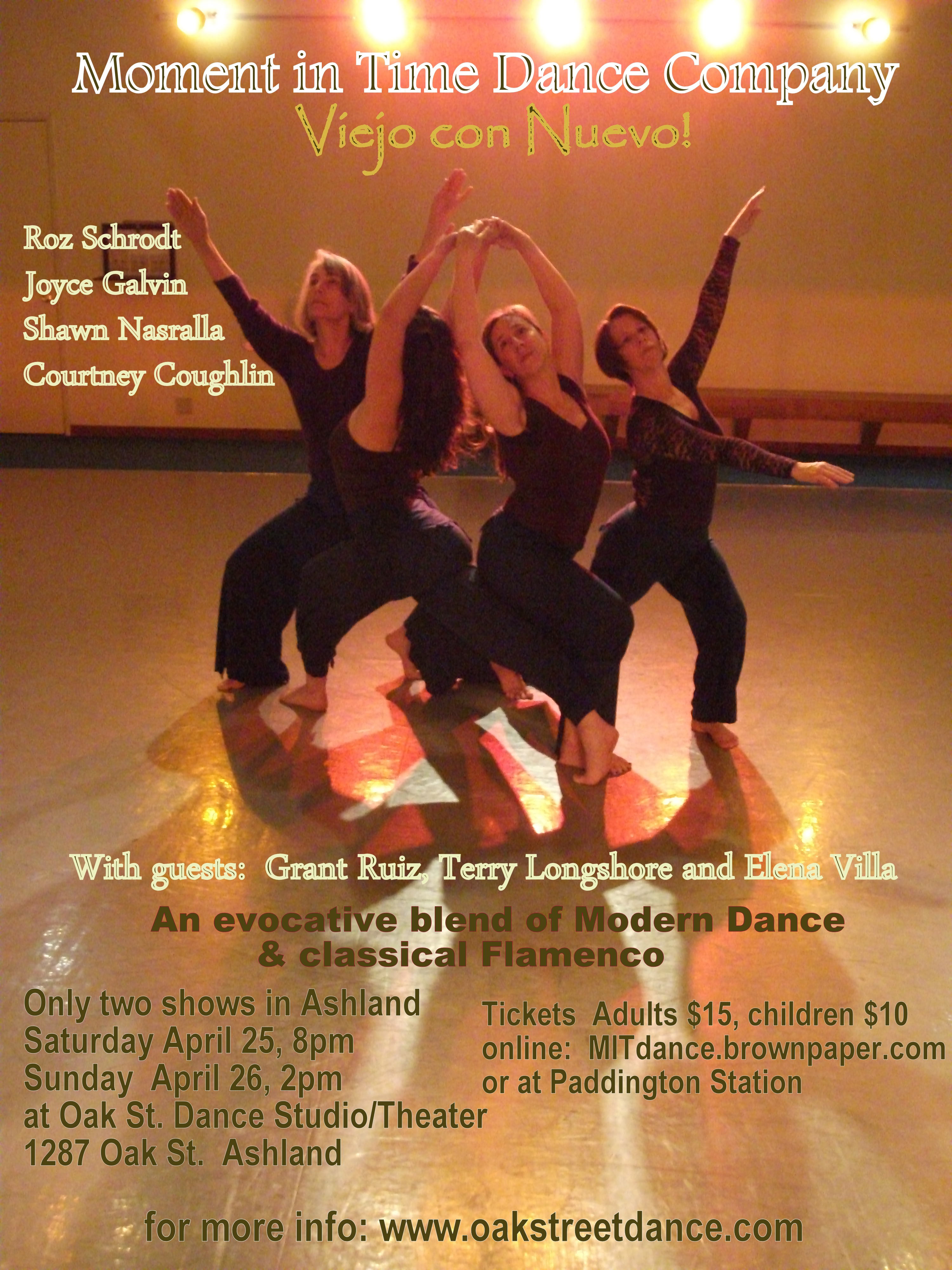 PRESS RELEASE
Moment in Time Dance Company brings to Ashland
Modern Dance Concert with Flamenco Music and Dance
Event Date: Saturday, April 25 th , 8pm & Sunday, April 26 th , 2pm
Tickets: $15 adults, & $10 children 15 and under
Location: Oak Street Dance Studio, 1287 Oak Street, Ashland, OR
_____________________________________________________________________________________
Viejo con Nuevo
Moment in Time Dance Company, founded in Ashland at the Oak Street Dance Studio in 1995, will be celebrating its 20th anniversary with Viejo con Nuevo , a dance and music performance on April 25 th and 26 th . The Company consists of Artistic Director Rosalind Schrodt, Courtney Coughlin, Joyce Galvin, and Shawn Nasralla. Rosalind Schrodt's choreography has been described as having vibrant cultural references combined with intriguing storylines. The dancers will be joined by the music group Dúo Flamenco.

Rosalind Schrodt's inspiration for the show draws from her study with Maria Benitez, a well-known flamenco dancer from Santa Fe, New Mexico. For many years, Rosalind envisioned working with Flamenco music and dance again. Viejo con Neuvo features three new modern dances that bring the excitement and vitality of the beautiful culture of Flamenco to the shape and flow of expressive modern dance. The music group Dúo Flamenco, which includes musicians Grant Ruiz and Terry Longshore, will provide live accompaniment.

Dúo Flamenco formed in 2007 out of a mutual passion for the art form of flamenco. Inspired by the sounds of Andalucía, the colorful province of southern Spain, the duo presents a dynamic combination of guitar, voice and rhythm. With Grant Ruiz on vocals and guitar and Terry Longshore on cajón (box drum), and other percussion and vocals, the duo takes the audience on a journey. The natural sounds of voice and wood evoke times past when people sang their lives because they dared not speak of them openly.
To make this cultural exchange complete, special guest dancer Elena Villa from Portland, Oregon, has been invited to bring classical Flamenco dance in its pure form into the artistic exchange of ideas. Elena brings nearly 30 years of flamenco dance experience.

Several other modern dances will be included in the show including one that features music from local singer/songwriter Alice DiMicele's recently released CD, Swim . Moment in Time Dance Company was recently featured in a music video for the song, "This Love." Two repertory works will be also be included.

There are only two shows scheduled: Saturday, April 25 th , at 8:00pm and Sunday, April 26 th , at 2:00pm.
The shows will take place at Oak St. Dance Studio, 1287 Oak St. Ashland. Seating is limited and it is recommended to buy your tickets in advance. We do have wheel chair accessibility and the show is appropriate for children. Tickets: $15, $10 for children under 15.
Tickets may be purchased at Paddington Station, in downtown Ashland or online at MITdance.brownpaper.com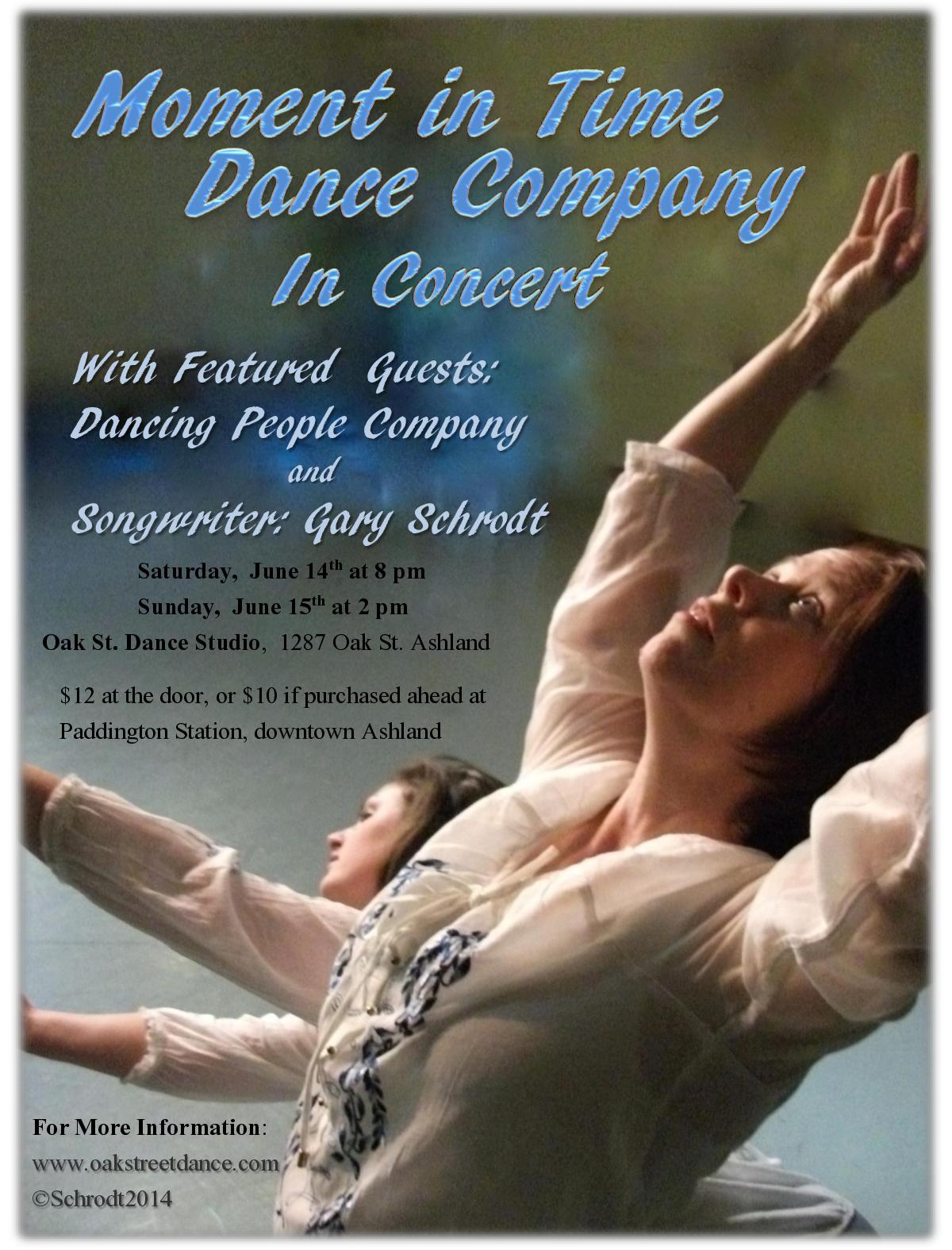 Khentrul Lodrö ThayeRinpoche
************Sorry this event Jan. 25 and 25th has been cancelled*****************
Khentrul Lodrö Thayé Rinpoche spent twenty years studying at Mardo Tashi Chöling and Katog monasteries in eastern Tibet, Khenpo Jigme Phuntsok's Serthar Buddhist Institute in Kardze, Tibet, and Penor Rinpoche's monastery Namdroling in India. Acknowledged as a scholar of the highest level, he twice received the title of khenpo (equivalent to a Doctor of Philosophy). He was recognized by Kyabjé Moktsa Rinpoche as the tulku of Katok Druptop Namkha Gyatso.
Suggested donation $75/weekend
$25/session
No one will be turned away
For more information contact
Madalin
katogpadmaling@gmail.com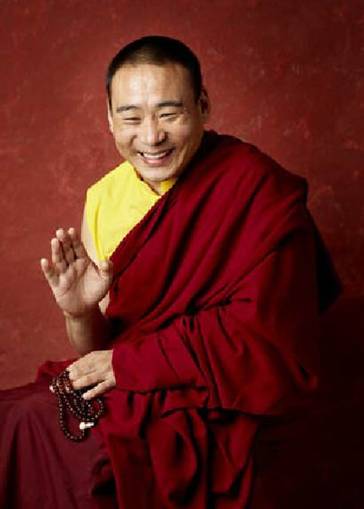 {{{{{{{{{{{{{{{{{{{{{{{{{{{{{{{{{{{{{{{{{{{{{{{{{{{{{{{{{{{{{{{{{{{{{{{{{{{{{{{{{{{{{{{{{{{[[[[[[[[[[[[[[[