Roz Schrodt, Artistic Director of Moment in Time Dance Company, of Ashland, Oregon. MIT has been recently been seen at the Oregon Shakespeare Festival Green Shows. She has performed and been active in dance since she was 7 years old. She founded The Moving Center Dance Theatre in Taos, New Mexico, 1973-1976. She has worked with Beverly Pollack, has studied intensively with David Hochoy, Kitty Daniels, and Bill Evans. Roz has choreographed more then 100 dances.

She has won awards for her choreography, and received two National Endowments for the Arts grants for her dance productions. Roz has a Bachelors Degree in Humanities from Southern Oregon University. Roz completed the Bill Evans Certification Program in 2007. This 4 year program includes the study of Labon Movement Analysis and The Bartenieff Fundamentals. She has consistently taught Modern Dance Technique classes for the last 30 years. Roz returned recently from teaching commitment in Loreto, Baja Sur. Roz has mentored many dancers that have gone on to have successful careers in dance. She loves the art of dance and conveys this love to all of her students. These last few years Roz has been working with Liquid Fire Mantra, as a choreographer, however, she has been seen in guest appearances with this exciting new art dance company. In addition, Roz has recently collaborated with music recording artist Steve Gold. She does guest performances from time to time and continues to make new dances for Moment in Time
Dance Co. Their next performance will be August 12 as part of the Dancer's Showcase at Dancing Peoples Studio in Ashland at 7 pm.
Modern Dance Technique
Roz directs her class to help develop strong, supple bodies needed to master Modern Dance.
"I look at each student as an individual, learning in their own way. I present the material in many different ways to reach each student where they are at in this point in their dance training. The technique I use has been greatly influenced by my study of the human body kinetic wisdom.. "
The Advanced/Intermediate class is specifically for the experienced students that are interested in going into performing and/or are already performers. Her classes are Scheduled for Thursday is ongoing at Intermediate / Advanced Level and meets at 5:45pm to 7:15 pm. It is the company class for Moment in Time Dance Co. It will continue through the year as MIT has some shows coming up. Please Email for further information, rozinthismoment@msn.com
The Beginning Modern Dance Class adults. This class is a fun and informative way for dancers to learn Modern Dance. Learning to move from inner stability to outward mobility. This class will be helpful to all young people wanting to dance and share creativity with others. We are now taking new student for the Monday and Wednesday morning classes at 11 am. Starting January 6 and 8th. tuition for January is $40 for 1 class a week and $80 for 2 classes a week. Pre enrollment is helpful.
Please write: rozinthismoment@msn.com
Dancers Toning and Conditioning Class, " Private lessons and training"
From time to time we are asked to give the benefits of good dance training to people who just want to be in better shape. This course is being offered for all ages regardless of experience to become friends with their own body again. The work out has been developed through many years of study and developement. It includes many forms of optimum conditioning exercises and an deep stretches. Give yourself that special time for your health and well being. Learn how to work within your needs. Please email her for further information, rozinthismoment@msn.com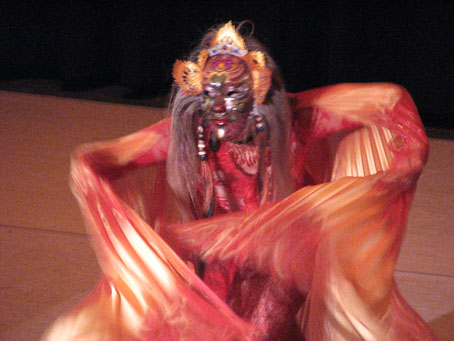 Roz in performance in Sequim, Washington 2010
Forest Schrodt
Forest is the founder and artistic director of Liquid Fire Mantra. He is the son of Roz Schrodt.Forest's company tours worldwide in performances in Ritual Fire and Mask Dancing. Recently they were performed at the 40th Anniversary Celebration of the Oregon Country Faire. Forest and his partner Cassandra were the leads in the production of Carmin Burana. They were featured in the OSF Green Show again this last Oct. 2 & 4th
Forest will be offering a Fire Dancer's workshop and Yoga in several diciplines. He will cover the use of poi, staff, and sword in fire spinning. He is on tour at this time, but comes back from time to time.
Visit their web site for more information: forest@ liquidfiremantra.com